A BAD PATCH? me? not anymore.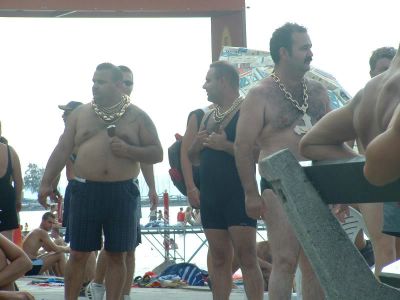 rich guys!
10: Verve: Bitter Sweet symphony
9: Jem: They
8: Jupiter Ace vs. Lovefreekz: Shine A1 mix
7. Gorillaz: Feel Good Inc
6: Coldplay: See you soon
5: Chemical Brothers: Believe
4: Yes: Owner of a Lonely Heart
3: Unknown: 'Lose Yourself'
2: Robbie Williams: Mr Bojangles (Cover)
1: Airwave: Alone in the Dark



A mix of tunes this week, in car i particularly like listening to Robbie Williams and his "Swing when youre winning" album. ITs 'super-fly'. Just had cricket training which was funkydory and had a good ho-down at the boaty afterwards. I wish i didnt drive tho cos i was dying to have a drinky of alcyhol. its been a while. 2 weeks?!



on wednesday went to see drama performance which was gd, Shaker girls looked 'hawt'. also, yunno when you wanna lol like so much but you know you can't? well last ngiht was one of those occasion with uncle damo.



anywho, school activity's including revision and football, it was hot today and everyone seemed alot happier, HAPPY DAYS! had a bit of fun with mr newton towards the end of the day with Hannah. A panda, a confluence and a mobile fone... good stuff.





righty, hope its sunny again 2moro, it cld be a three quarter length day....then work in t'evening. im asking for a pay rise. no i am!



also, katie's back soon. bit of a road trip to pick her up tho.

keep it real.
Posted in Accordance with TeddyBearBlog Copyright Laws...